Festive icons to feature on Jersey's Christmas stamps
November 2, 2022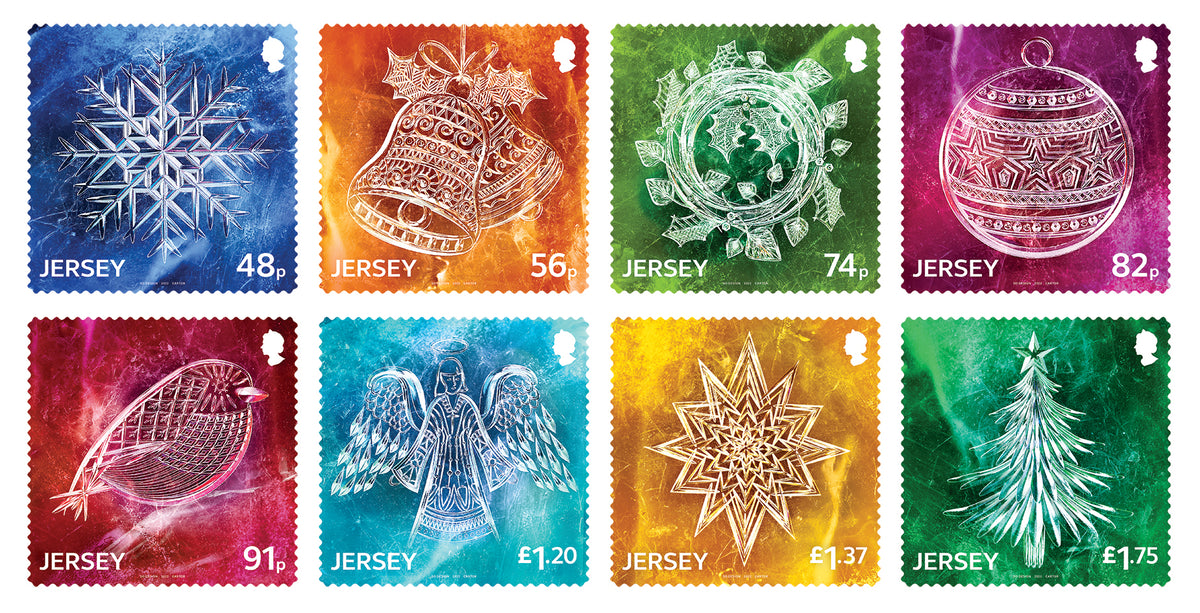 Eight icons associated with the festive season will feature on a set of self-adhesive Christmas stamps to be issued by Jersey Post on 14 November 2022.
Designed by So Design Consultants, the icons have been crafted to look like ice carvings and set against a joyful, jewel tone colour palette, giving the stamps a true wintry, festive feel. Featured across the stamp set are: a snowflake, bells, a wreath, a bauble, a robin, an angel, a star and a Christmas tree.
As in previous years, Jersey Post has included special stamp tariffs to allow the people of Jersey to send their Christmas cards for less during the beginning of the festive period.
Steve Haskins, Creative Director at So Design Consultants describes the agency's approach to the brief: "One of our first creative thoughts was to explore festive icons in coloured glass, and particularly stained glass. This led to us looking at basic shapes in ice, and so our journey into the world of ice carvings began. We developed a process of creating the icon in a 3D rendering programme, which allowed us to view a flat Christmas icon and look around it in a 3D space. We were then able to carve the lines almost as in ice, and then add detailed ice textures through the image to give realism. Flooding bright colours through the ice platform gave us the feel of stained glass which originally inspired us, and these added to the festive nature of the stamps."
So Design Consultants is a creative agency based in Bristol. The team previously created the designs for Jersey Post's 2018 Frankenstein stamp issue, the 2020 Jersey Festive Scenes issue and the 2022 Her Majesty Queen Elizabeth II Platinum Jubilee issue.
Jersey Post's Festive Icons stamps will be available to buy from all branches of Jersey Post from 14 November 2022. Philatelic stamp products such as first day covers and presentation packs will be available from the Jersey post offices at Broad Street, St Helier and Rue Des Pres, St Saviour on issue day and can be ordered now at www.jerseystamps.com Alternatively, you can email the Jersey Philatelic Bureau at stamps@jerseypost.com or telephone us on: +44(0) 1534 616717.