Jersey's traditional language celebrated with new stamps
August 15, 2022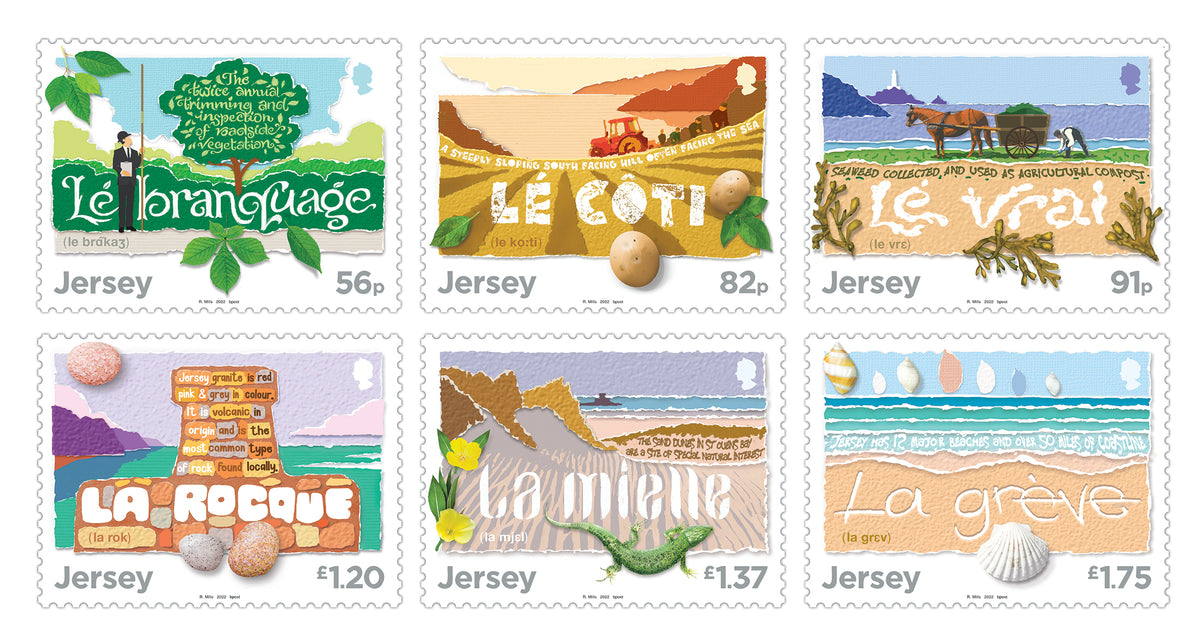 Jersey Post is celebrating Jèrriais, the traditional language of Jersey, with a set of six stamps and a miniature sheet to be issued on 6 September 2022. Illustrated by local artist Ron Mills, the stamps feature Jèrriais words and phrases on the theme of the natural environment.
2022 marks the beginning of the UNESCO International Decade of Indigenous Languages. This global initiative has been designated by the United Nations General Assembly to draw attention to the critical situation of many indigenous languages across the world, and to encourage action for their preservation, revitalisation and promotion. A form of the Norman language, Jèrriais is the traditional national dialect of Jersey and has played an integral role in shaping Jersey's culture and heritage. Few people speak Jèrriais today, but up until the 20th century it was spoken by the majority of the population.
Each of the six stamps in the set represents a geological/topographical feature of Jersey and contains the Jèrriais word or phrase, a definition and a phonetic spelling. The miniature sheet features an image of La Corbière, an iconic lighthouse found on the south-west coast of the Island. The original Jèrriais name for La Corbière is 'Corbiéthe', which translates as 'place where crows congregate'.
Stamp artist, Ron Mills, says of the project: "The design brief requested the use of typography to illustrate the meaning of the Jersey-French words and phrases. As a result, each of the stamp artworks features bespoke hand-drawn lettering and a description which fits with the style and shape of the background illustration. To go with the hand-drawn style, I decided to give the backgrounds a torn paper look. I then added some 3D elements on top to create the illusion of depth. I am very happy with the result as I think they have a distinctive look and I hope everyone else will like them too."
Ron Mills has been a professional illustrator / designer in Jersey for over 20 years. He is skilled in digital illustration as well as traditional painting techniques and has produced award-winning images for both local and international clients.
Jersey Post's Jèrriais stamps will be available to buy from all branches of Jersey Post from 6 September 2022, whilst philatelic stamp products such as miniature sheets, souvenir sheetlets, first day covers and presentation packs will be available from the Jersey post offices at Broad Street and Rue Des Pres. All items can be ordered now at www.jerseystamps.com or by telephoning the Jersey Philatelic Bureau on: +44 (0)1534 616717.