Jersey stamps celebrate 100 years of Elizabeth Castle as a historic monument
August 8, 2023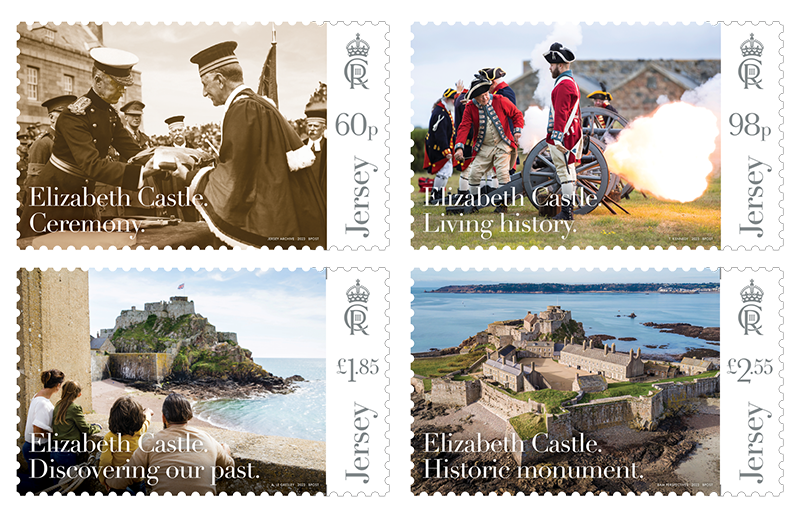 A set of four commemorative stamps, celebrating 100 years of Elizabeth Castle as a historic monument, will be issued by Jersey Post on 22 August 2023.
One of the Island's most famed landmarks, Jersey's Elizabeth Castle (Jèrriais*: Lé Châté Lîzabé), was constructed in the 16th century on a tidal islet, near the Parish of St Helier. At the time, the power of the cannon meant the existing castle at Mont Orgueil provided insufficient defence for the Island, and therefore a new stronghold was necessary.
Sir Walter Raleigh, Governor of Jersey between 1600-1603, officially named the castle for Queen Elizabeth I: Fort Isabella Bellissima (The Most Beautiful Elizabeth). Some accounts suggest that he also named the castle after his wife, Elizabeth Raleigh.
Whilst protecting the port of St Helier, the castle also offered safe anchorage for merchant vessels, gave refuge to Charles II in 1645 during the English Civil War, acted as a prison in The Seven Years' War, became a barracks hospital for British troops in the 19th century, and was re-fortified by German Forces during the Second World War.
2023, marks 100 years since the British Government relinquished Elizabeth Castle to the States of Jersey, for operation as a museum and historic site. A ceremony on 21st May 1923 marked the official transfer, as pictured on the 60p stamp, and the castle has since been cared for by Jersey Heritage as an important monument from the Island's history.
Today, the castle is host to an enthusiastic group of Jersey Militia re-enactors. These living history actors 'patrol' the castle, answer questions about the Island's military history, and re-enact activities such as firing cannon shot to help create an immersive experience for visitors.
This commemorative issue, entitled 100 years of Elizabeth Castle as a historic monument features photographs, with the first stamp image being from Jersey Archives, and the remaining three stamps featuring contemporary photographs taken by Jersey photographers: Tom Kennedy, Andy Le Gresley, and Marc Le Cornu of BAM Perspectives. It will be available to buy from all branches of Jersey Post from 22 August 2023.
Philatelic stamp products such as first day covers and presentation packs will be available from the Jersey post offices at Broad Street, St Helier and Rue Des Pres, St Saviour and can be ordered now at www.jerseystamps.com or by telephoning the Jersey Philatelic Bureau on: 00 44 (0)1534 616717.
--
About Jèrriais*
Jèrriais has been around for over a thousand years and traces its origins back to Normandy and the Norman language. A lot of Jersey history is recorded in Jèrriais, and as a living language, was recently adopted as an official language of local parliament.