Jersey stamps celebrate 150 years of the Société Jersiaise
June 27, 2023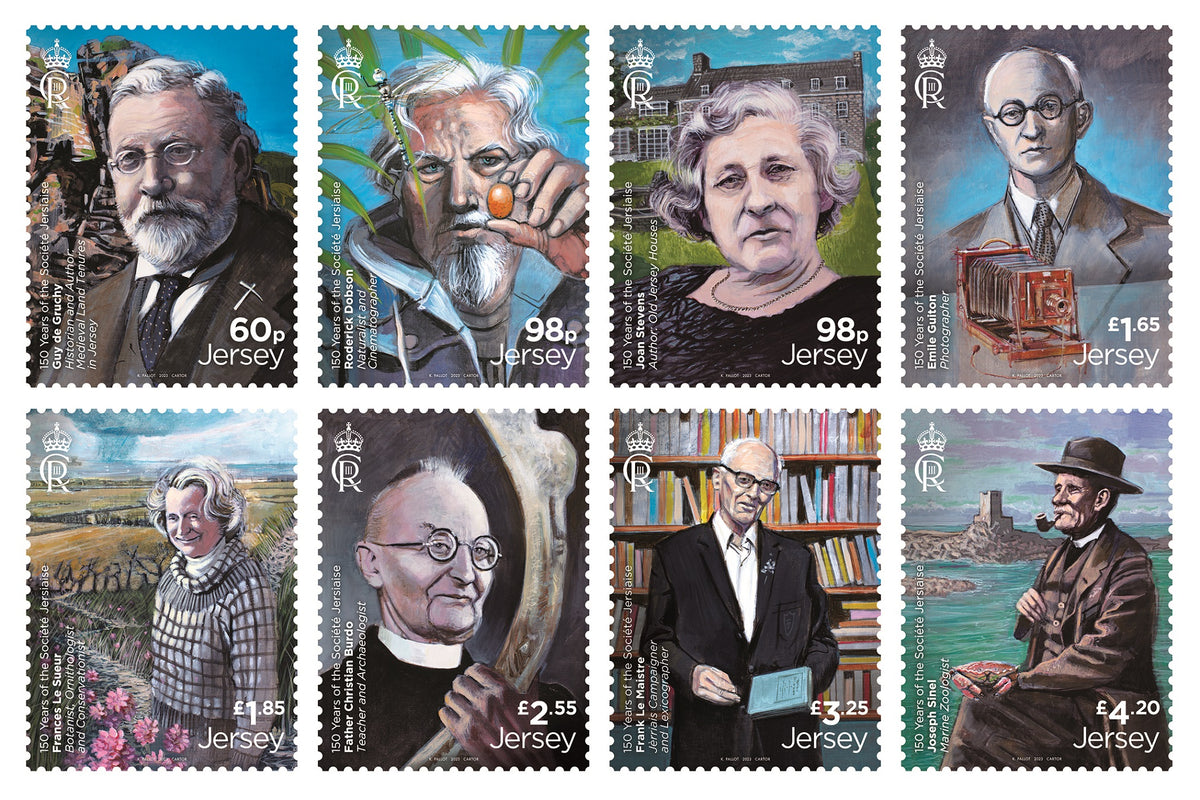 A set of eight commemorative stamps celebrating the 150th anniversary of the Société Jersiaise will be issued by Jersey Post on 6 July 2023.
The Société Jersiaise was founded in 1873 for the study of Jersey archaeology, history, natural history, the ancient language, and the conservation of the environment. 150 years later it continues to fulfil this important role, whilst enabling islanders to connect with Jersey's past, present and future through research, education and outreach.
The commemorative stamps feature portraits of past members of the Société, each of whom has left a lasting legacy in their specific field of work. The portraits have been painted by Jersey artist Kevin Pallot and incorporate elements relating to each person's area of interest.
Featured across the stamps are: historian and author Guy de Gruchy; naturalist and cinematographer Roderick Dobson; author of Old Jersey Houses Joan Stevens; photographer Emile Guiton; botanist, ornithologist, and conservationist Frances Le Sueur; teacher and archaeologist Father Christian Burdo; Jèrriais campaigner and lexicographer Frank Le Maistre and marine zoologist Joseph Sinel.
President of the Société Nicolette Westwood comments: "The Société Jersiaise is proud to be celebrating its 150th anniversary with a strong and committed membership. We are extremely grateful to Jersey Post for these commemorative stamps profiling some of the well-known names of the Société. Individuals such as these have been the lifeblood of the society and we are so grateful to have them brought to the public attention in this way. The good work of the organisation continues, changing with the demands of the time."
The commemorative issue, entitled 150 Years of the Société Jersiaise, will be available to buy from all branches of Jersey Post from 6 July 2023. Philatelic stamp products such as souvenir sheetlets, first day covers, presentation packs and prestige booklets will be available from the Jersey post offices at Broad Street, St Helier and Rue Des Pres, St Saviour and can be ordered now at www.jerseystamps.com or by telephoning the Jersey Philatelic Bureau on: 00 44 (0)1534 616717.