Jersey stamps celebrate the magic of miniatures
August 1, 2023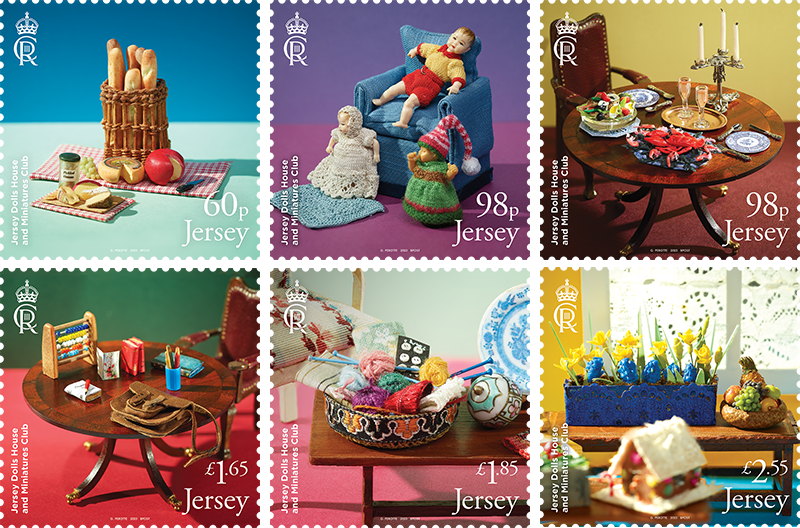 A set of six stamps and a souvenir sheetlet illustrating the delights of the Jersey Dolls House and Miniatures Club will be issued by Jersey Post on 2 August 2023.
For the seasoned philatelist, a love of collecting small works of art is all too familiar. Stamp collectors are well acquainted with enjoying the precision and beauty of tiny things. Many find there is nothing more satisfying than getting out a magnifying glass and taking in every element of a stamp design. Such appreciation is certainly shared with members of the Jersey Dolls House and Miniatures Club.
Set up in 1998, the club brought together several Jersey creatives who are passionate about miniatures and wanted a unique space to work in collaboratively, and to share their craft. Far from child's play, the hobby comprises of the two main branches of collecting and crafting, and both are represented in the interests of the Jersey club.
The members work diligently to a 1:12 scale, meaning that every foot is scaled down to an inch in the dolls house world. This attention to detail creates some stunningly lifelike items, as represented in the six stamps of this set. Members of the club have made award-winning scenes for national competitions, and they often showcase at various events and galleries around the Island.
The items photographed here represent the expertise of the club members, showcasing a number of different techniques, materials and design styles. Thank you to the Jersey Dolls House and Miniatures Club for their invaluable assistance with this issue.
Glen Perotte, an international, award-winning photographer, living in Jersey, adds, "When Jersey Post asked me to create the photography for their new stamp collection, I jumped at the opportunity. I was asked to photograph close-ups of the miniature objects, but I could see how we could take this even further, by crafting imaginative dioramas. From inception to fruition, I enjoy bringing ideas to a vibrant reality, and this project offered the perfect canvas for my creative ambitions."
Rebekah Matheson, Philatelic & Marketing Research Executive at Jersey Post comments: "The issue is fun, quirky, and different to anything we have previously produced; its creation was a joyful experience, which I believe is represented in the final artwork. We are so glad that the club approached us with their ideas and grateful for Glen's vision in bringing the scenes to life."
Jersey Post's Jersey Dolls House and Miniatures Club stamps will be available to buy from all branches of Jersey Post from 2 August 2023. Philatelic stamp products such as miniature sheets, first day covers and presentation packs will be available from the Jersey post offices at Broad Street, St Helier and Rue Des Pres, St Saviour and can be ordered now at www.jerseystamps.com or by telephoning the Jersey Philatelic Bureau on +44 (0)1534 616717.