Jersey stamps pay tribute to Her Majesty on her 95th birthday
April 20, 2021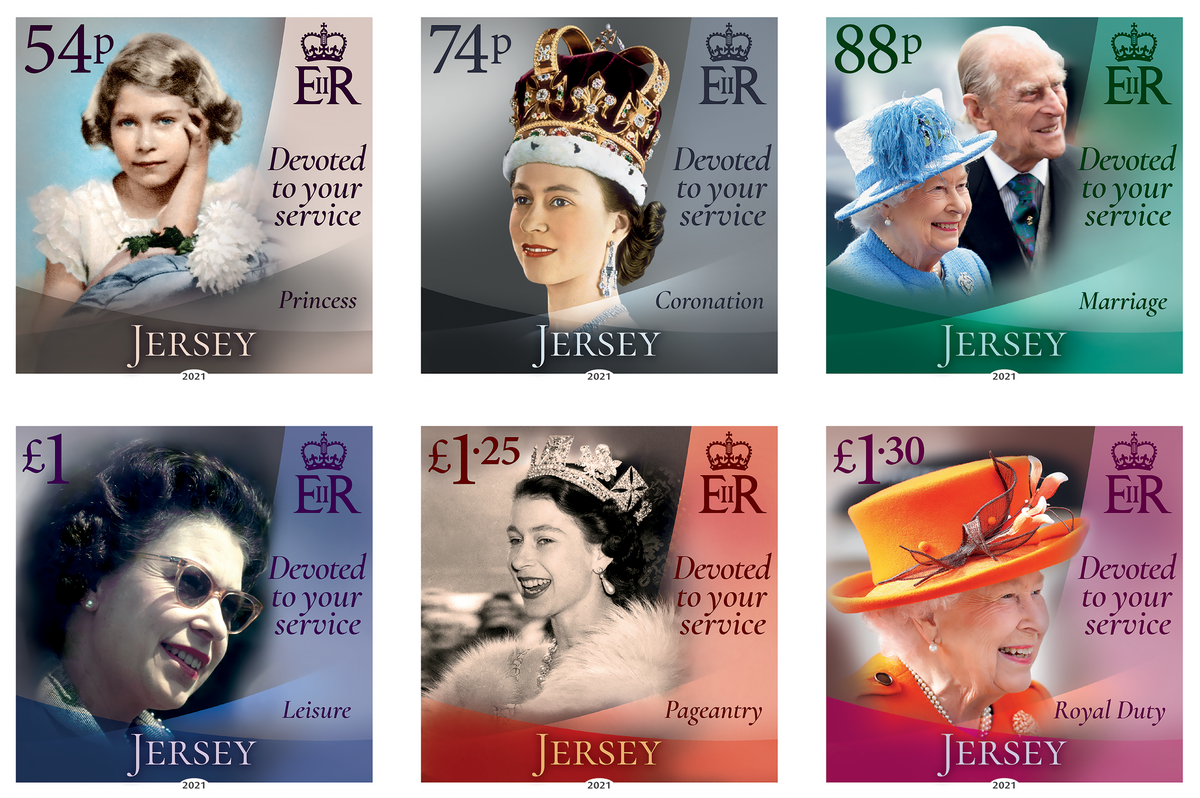 A set of six commemorative stamps issued to mark the 95th birthday of Her Majesty Queen Elizabeth II will be released by Jersey Post on 21st April 2021.
Designed by Andrew Robinson, the stamps feature photographs carefully chosen to reflect aspects of Her Majesty's life, using the titles: Princess, Coronation, Marriage, Leisure, Pageantry and Royal Duties. The words 'devoted to your service', appear on each stamp, taken from the famous and heart-warming speech Princess Elizabeth gave to the Commonwealth on 21 April 1947, her 21st birthday.
The stamp issue is part of a joint collection with ten other postal administrations, each of which has produced a different set of commemorative stamps bearing the same titles. As part of the collaboration, a beautiful limited edition sheetlet featuring one stamp from each of the participating postal administrations has also been produced. With only 5,000 available worldwide, the numbered sheetlet comes with a certificate of authenticity.
Rachel MacKenzie, Philatelic Marketing Manager says of the project: "We're honoured to be a part of this project. At a time when the world seems strangely disconnected, it feels particularly special that we have been able to come together with ten other nations to mark Her Majesty's birthday in this way and to pay tribute to her continued dedication and service."
The postal administrations involved in the joint project are: Jersey, Ascension Island, Bahamas, British Antarctic Territory, British Virgin Islands, Falkland Islands, Gibraltar, Guernsey, Isle of Man, South Georgia and the South Sandwich Islands, and Tristan da Cunha.
Designer, Andrew Robinson has produced stamps for many countries around the world, including Jersey. Previous Jersey issues designed by Robinson include: The Investiture of HRH The Prince of Wales and Post & Go – Visiting Naval Vessels. Tim Robinson of Creative Direction coordinated the joint project.
The Queen's 95th birthday stamps will be available to buy from all branches of Jersey Post from 21 April 2021. Philatelic stamp products such as first day covers and presentation packs will be available from the Jersey post offices at Broad Street, St Helier and Rue Des Pres, St Saviour on issue day. All products including the special edition souvenir sheetlet can be ordered now at www.jerseystamps.com or by telephoning the Jersey Philatelic Bureau on: 00 44 (0)1534 616717.