Local delicacies celebrated on Jersey stamps
May 18, 2022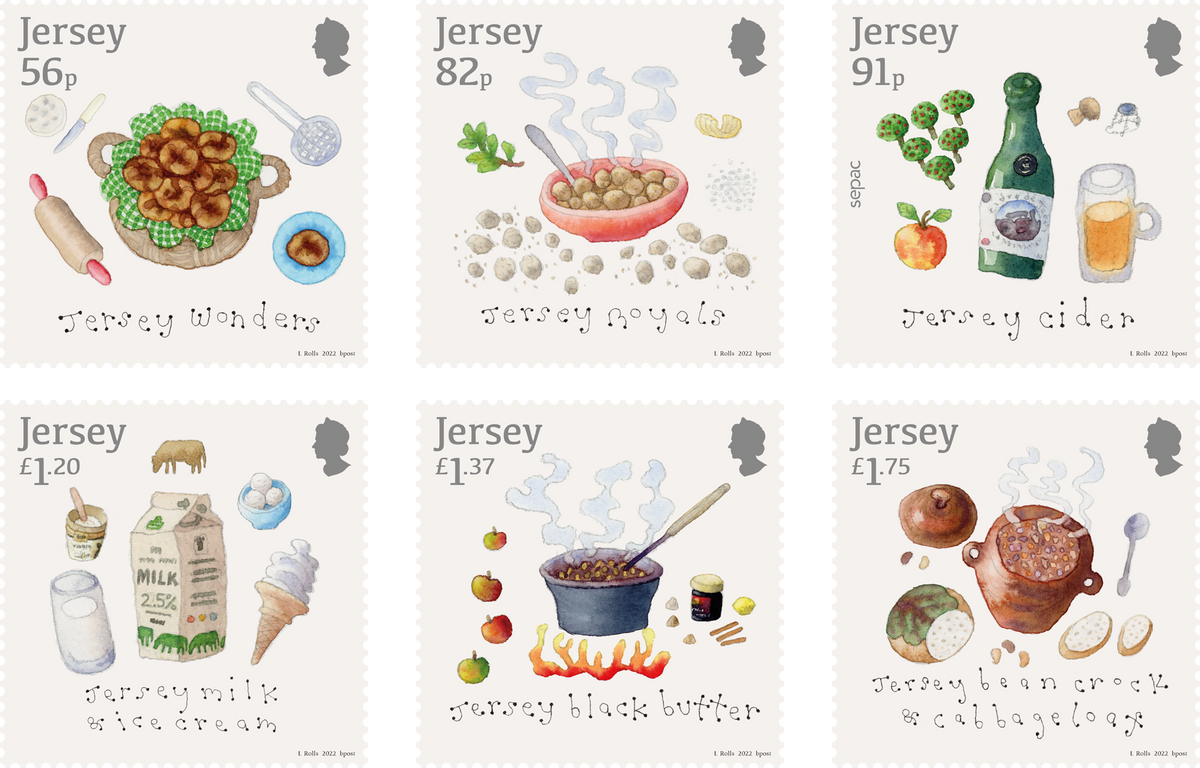 Six Jersey delicacies are to feature on a set of stamps to be issued by Jersey Post on 24 May 2022. Illustrated by Jersey artist Ian Rolls, the stamps celebrate local food and drink including world-famous Jersey Royals, locally produced cider and the traditional baked snacks known as Jersey Wonders.
Nestled in the English Channel just 14 miles from France, Jersey has a cuisine which enjoys both British and French influences, with a distinctly island twist added into the mix. Geographically, the Island's unique location also provides fertile soil and plenty of sun, fuelling Jersey's agricultural industry and resulting in high-quality ingredients.
Artist Ian Rolls is well-known in Jersey for his distinctive colourful and joyful watercolours, usually of Jersey coastlines and landmarks. Rolls says of the project:
"To be asked to create a series of images for Jersey stamps was both a massive honour and something of a challenge. The honour speaks for itself, but the challenge was to create designs that would have impact on such a small scale. I am definitely from the 'more is less' school of painting, so I've taken a playful approach and represented the various local food and drink components floating around with lots of elbow room and not too much detail. The additional challenge was of course painting something that is essentially meant to be eaten or drunk and not closely observed!"
Featured on the six stamps are: Jersey Wonders, fried dough treats which are traditionally cooked as the tide goes out; world-renowned Jersey Royal potatoes; Jersey cider, which has been made in the Island for over 500 years; Jersey milk and ice cream, products of the famous Jersey cow; Jersey black butter, a traditional apple preserve and Jersey bean crock, which could be described as the Island's national dish.
The stamps have been created as part of a joint issue with SEPAC (Small European Postal Administration Co-operations), entitled Locally Made Beverages, and, as such, the 91p Jersey cider stamp bears the SEPAC logo.
Jersey Post's Jersey Food and Drink stamps will be available to buy from all branches of Jersey Post from 24 May 2022, whilst philatelic stamp products such as first day covers and presentation packs will be available from the Jersey post offices at Broad Street and Rue Des Pres. All items can be ordered now at www.jerseystamps.com or by telephoning the Jersey Philatelic Bureau on: +44 (0)1534 616717.