Mesmerising new stamps show Jersey from a surprising perspective
January 20, 2023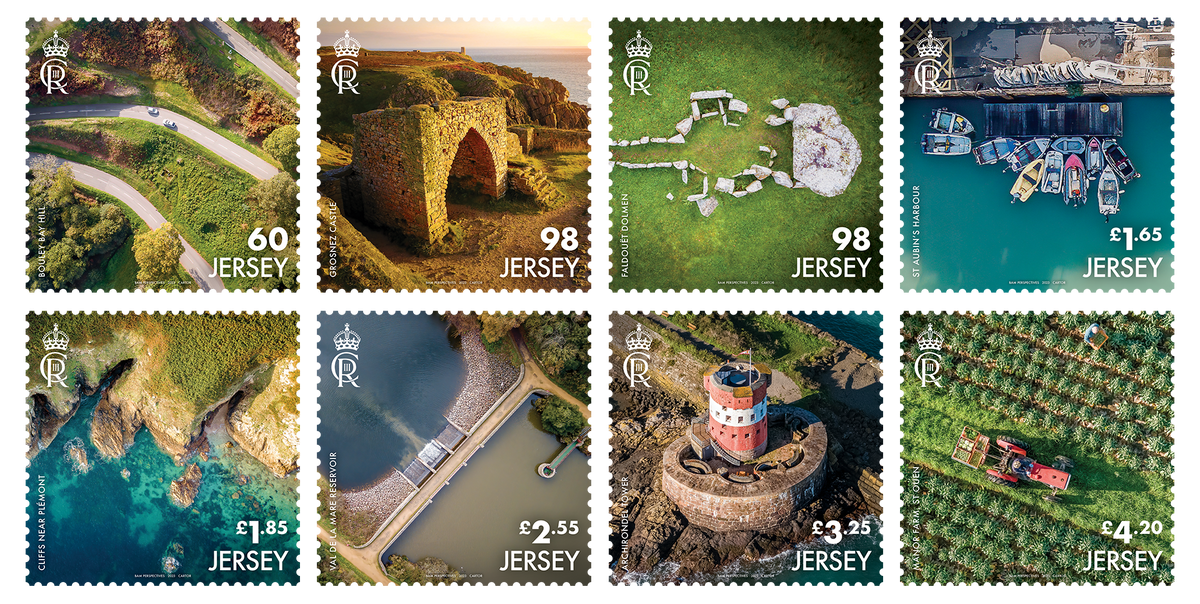 Eight aerial photographs of Jersey are to feature on a set of stamps to be issued by Jersey Post on 28 January 2023. The second in Jersey Post's Jersey from the Air series, the stamps feature a new selection of drone-captured photographs, taken by local photography business, Bam Perspectives and showing the Island from a unique and often surprising perspective.
With its stunning seascapes, rugged clifftops and beautiful countryside, the island of Jersey has been photographed on numerous occasions and from many different angles. Award-winning local photographer, Marc Le Cornu of Bam Perspectives, takes a decidedly 21st century approach to capturing Jersey scenery, using drone technology to take aerial photographs of some of the Island's most visited landmarks, as well as some lesser-known beauty spots.
Featured across the eight stamps are: Bouley Bay Hill in Trinity, Grosnez Castle in St Ouen, Faldouët Dolmen in St Martin, St Aubin's Harbour in St Brelade, Cliffs near Plémont in St Ouen, Archirondel Tower in St Martin, Val De La Mare Reservoir in St Peter and Manor Farm in St Ouen.
Marc Le Cornu of Bam Perspectives has been flying drones since 2015. As well as having one of his images published in National Geographic Traveler Magazine, he has won a number of awards including the 2018 Photobox Instagram Photography Awards (PIPAs) sports category and the abstract category of the 2019 Drone Awards at the Siena International Photography Awards (SIPA). Most recently Le Cornu had an image shortlisted in the motion category of the World Photography Organisation's 2020 Sony World Photography Awards.
Jersey Post's Jersey from the Air II stamps will be available to buy from all branches of Jersey Post from 28 January 2023. Philatelic stamp products such as souvenir sheetlets, first day covers and presentation packs will be available from the Jersey post offices at Broad Street, St Helier and Rue Des Pres, St Saviour and can be ordered at www.jerseystamps.com, www.wopa-plus.com and the TaoBao web shop (search Jersey Stamps). Alternatively, you can email the Jersey Philatelic Bureau at stamps@jerseypost.com or telephone us: +44 (0)1534 616717.