New stamps celebrating Bergerac TV series
October 6, 2021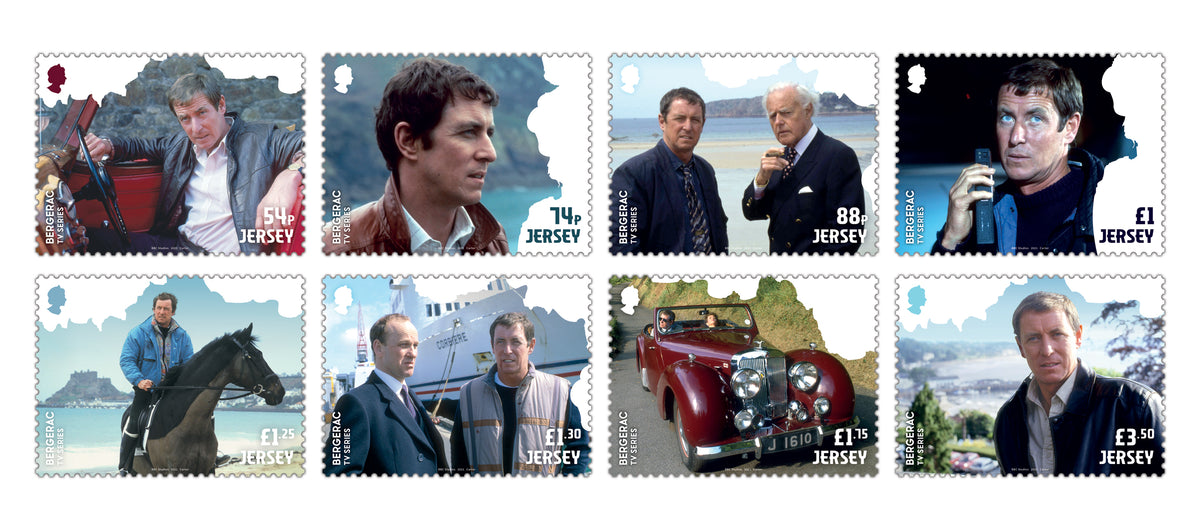 Jersey Post will issue a set of eight stamps on 18 October to commemorate Bergerac, the popular British BBC crime drama television series set in Jersey during the 1980s. The stamps are also available as part of a stamps prestige booklet incorporating two sets of stamps and additional information about the series.
Chris Elligott, Philatelic Design & Production Manager said about the eight stamp designs, "Bergerac is a classic TV series that brought the Island of Jersey to the attention of the rest of the world, enjoyed today for its nostalgic glimpse of the 1980s. The stamps show a selection of scenes and characters from various episodes, each featuring sections of the Island's coastline in a style reminiscent of a TV show opening title sequence. For many, Detective Jim Bergerac and the plots of villains, shifty business and glamorous love-interest often played second fiddle to views of the beautiful Island, and the series is still remembered fondly; as much a part of the Island as Jersey Cows and Jersey Royal Potatoes".
Produced by the BBC in association with the Australian Seven Network, Bergerac originally ran from 18 October 1981 to 26 December 1991. The series was created by Robert Banks Stewart, starred John Nettles, OBE, and centres around the titular detective, Jim Bergerac, who starts out as detective sergeant in Le Bureau des Étrangers, a fictional department in the States of Jersey Police dealing with non-Jersey residents and later becomes a private investigator. Episodes follow Bergerac as he tackles cases ranging from catching jewel thieves to thwarting smugglers and even solving murders.
Bergerac showcases Jersey's beautiful scenery so much so that the first series resulted in an increase in visitors to the Island, as people came to see the show's main filming, locations. Many of these locations can still be found today, including Jim Bergerac's flat, which was located just a few doors down from the Sommerville Hotel above St Aubin, in
the West of the Island and perhaps most famously, the Old Court House pub in St Aubin itself, which featured as 'The Royal Barge'.
Jersey Post's Bergerac stamps will be available to buy from all branches of Jersey Post from 18 October 2021. Philatelic stamp products such as miniature sheets, souvenir sheetlets, first day covers and presentation packs will be available from the Jersey post offices at Broad Street, St Helier and Rue Des Pres, St Saviour on issue day and can be ordered now at www.jerseystamps.com Alternatively, you can email the Jersey Philatelic Bureau at stamps@jerseypost.com or telephone us: +44 (0)1534 616717.