Stamps bring to the fore Jersey's black history
October 17, 2022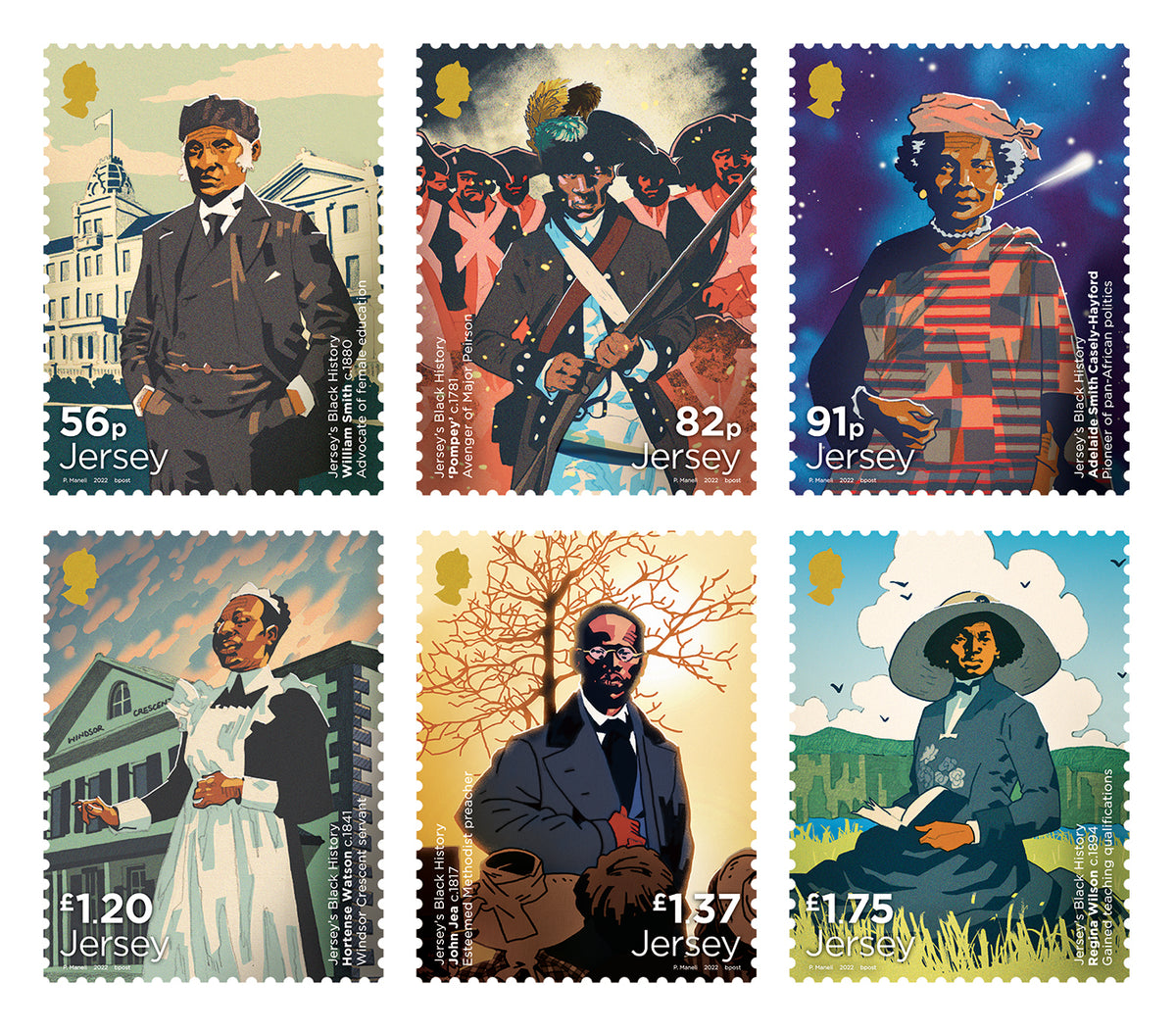 Released during Black History Month, a set of commemorative stamps issued by Jersey Post will highlight six individuals who played a part in Jersey's diverse history, bringing to the forefront stories which have often been overlooked.
As with many places in Europe, Jersey was not a bystander in the transatlantic slave trade. Some Island residents were directly involved in the trade, owning plantations and enslaved people in other countries. Others can be linked through their investments, especially in the overseas mahogany trade. Jersey Post's Jersey's Black History stamps, released on 20th October 2022, have been illustrated by South African artist, Pola Maneli and help to create an understanding of how past events continue to affect society today.
Chris Elligott, Philatelic Design and Production Manager comments: 'The past cannot be changed but history is something that is written every day. This issue is dedicated to highlighting black figures from Jersey's past that hopefully help to present an accessible and representative aspect of the Island's history.'
Featured across the stamps are: William Smith, one of the founding members of the Jersey Ladies' College (now Jersey College for Girls); 'Pompey', the single black figure, central to John Singleton Copley's famed 1783 painting of the Battle of Jersey, The Death of Major Peirson; Adelaide Smith Casely-Hayford, a founding pupil of Jersey Ladies' College, a pioneer of female education and an inspirational figure in Pan-African politics; Hortense Watson, an enslaved person who, after having being freed, stayed with her family as a servant at Windsor Crescent, Jersey; John Jea who, having been kidnapped into the slave trade at the age of two, went on to travel the world as an esteemed Methodist preacher, passing away on a visit to Jersey and Regina Wilson, who gained her teacher training qualifications on the Island and became a senior teacher in Sierra Leone. Wilson's daughter, Constance Cummings-John later became the first woman to serve as Mayor of the capital Freetown.
Born in Port Elizabeth, Pola Maneli is a freelance illustrator based in South Africa. Drawn to illustration since his early childhood, today Maneli uses bold colours and contemporary iconography to tell engaging and compelling stories.
Pola comments: 'From a background of adversity, the nature of the Black people who lived and thrived through Jersey's history is one of grace. By contextualising these figures within the wider history of the Island, the hope was that the illustrations would help to bring that grace to the forefront of people's minds.'
Jersey Post's Jersey's Black History stamps will be available to buy from all branches of Jersey Post from 20 October 2022, whilst philatelic stamp products such as souvenir sheetlets, first day covers and presentation packs will be available from the Jersey post offices at Broad Street and Rue Des Pres. All items can be ordered now at www.jerseystamps.com or by telephoning the Jersey Philatelic Bureau on: +44 (0)1534 616717.