Twelve Illustrated Jersey Parishes Stamps
August 3, 2021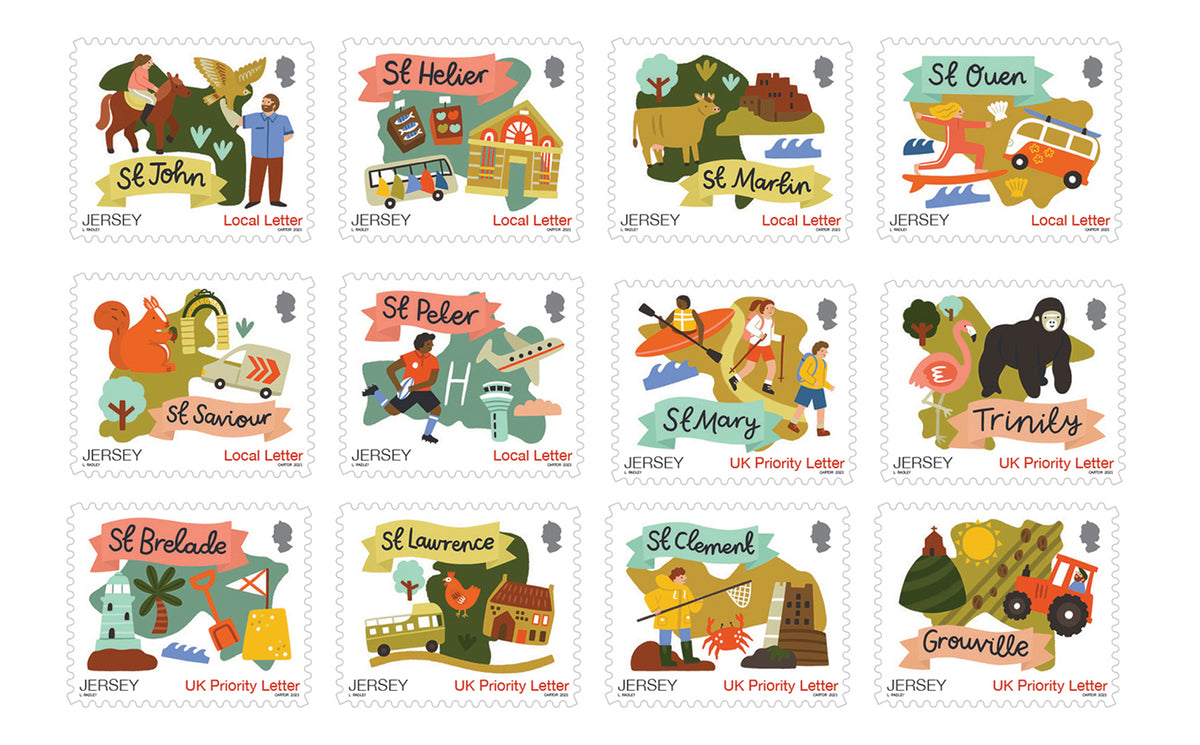 Jersey Post will issue a set of twelve beautifully illustrated stamps on 17 August 2021 featuring each of Jersey's parishes. Artist Lauren Radley was commissioned to illustrate each parish in her unique style. Lauren's contemporary illustrations are created in a fun and colourful way and are inspired by her passion for storytelling.
Jersey is the largest of the Channel Islands, with 120 square kilometres divided into twelve parishes, all of which have a border with the sea. In addition to the noticeable geographical differences, each of the parishes has its own individual personality and characteristics.
The layout of each stamp contains a scroll with the parish name incorporated into the design. The background shows the shape of each parish and features stylised elements and landmarks belonging to each of the parishes.
Lauren Radley, the artist, said about the illustrated stamps, "There is something so special about a map; everybody has a place that they can relate to and has a fondness of, and if I can bring some joy by capturing that love and nostalgia of a place through an illustration, then that makes me very happy!"
Jersey Post's Jersey Parishes stamps will be available to buy from all branches of Jersey Post from 17 August 2021. Six stamps are for the local letter and six stamps for UK priority self-adhesive stamps. Philatelic stamp products such as First Day Covers and Presentation Packs will be available from the Jersey post offices at Broad Street, St Helier and Rue Des Pres, St Saviour on issue day and can be ordered now at www.jerseystamps.com Alternatively, you can email the Jersey Philatelic Bureau at stamps@jerseypost.com